Smoked Beef Makes a Hearty and Satisfying Meal.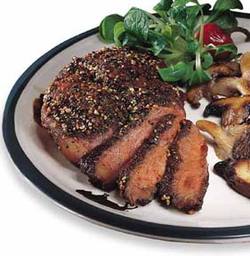 Smoked beef, properly cooked, is time well spent when the dinner bell rings.
Why it is often overlooked in favor of pork or turkey as the meat of choice for the smoker is a mystery to me.
Using a good rub and the low and slow technique of smoker cooking will do amazing things to beef.
Even the tougher and less desirable cuts can be transformed into a mouthwatering treat.
Smoking beef brisket is a great example, it's probably the toughest cut of beef known to man but, give it the right amount of time in the smoker and the low and slow magic will make it tender and juicy beyond belief.
The same principle applies to smoking beef ribs, which often tend to be tough and chewy if they're not cooked at a low temperature for the proper amount of time. If you go low and slow in the smoker, you can't beat em with a stick.
One often heard complaint is, beef turns out too dry. There are remedies for that problem.
Soaking the meat in a marinade the night before you smoke it is one way. Injecting the marinade is quite popular also. Both of these techniques work very well to prevent drying and enhance flavor.
So when you're planning a menu for the next bbq, you might want to consider smoked beef as the main course, you'll be amazed with the results.
Go for it…. And get smoky.





Beef Ribs smoked to perfection on your barbecue.
Beef Brisket smoky and tender.

Smoked Short Ribs are a great change of pace from traditional ribs.

Make Pastrami in your own smoker

Beef Roast perfectly cooked in the smoker.


Return from smoked beef to smoking meat
---
Are you a Beef Smoker Extraordinaire?
Share about your juicy beef ribs. Tell us how you make your mouth watering beef brisket. Whatever beef cut you enjoy smoking, I am sure our readers from around the world will also enjoy your story. If you want send a picture too.