Smoking Pork is a Must Do, for Both Amateur and Expert.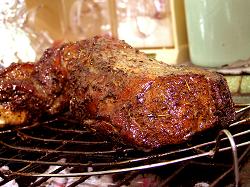 When it comes to meat choice, smoking pork is one of the most rewarding.
Due to a somewhat higher fat content, this kind of meat naturally retains moisture longer than it's beef counterpart.
It also has a great natural flavor that gets even better when you add your magic rub and favorite smoky hardwood.
Pork shoulder, also known as Boston butt, is a favorite for creating pulled pork. Other cuts such as tenderloin, ribs and chops smoke just as well and are just as tasty.
All you really need to do is pick out the cut of pork you want, heat up the smoker and jump to one of our pages below to combine our tips and techniques with your imagination to light up the faces and fill the bellies of friends and family alike.
Put all this information together and lets get smoky!


Smoked Pork Ribs are the favorite for the backyard bbq.

Smoking Pork Tenderloin is a great choice for the barbecue enthusiast.

Smoked Pork Shoulder slow cooked to perfection.




Return from smoking pork to smoking meat
---
Are You an Expert at Smoking Pork?
There are those Pit Masters that believe that pulled pork or pork ribs are the only way to go. Share with us a story of your mouth watering smoked pork and see if our readers agree with you. So start bragging and send a picture and a story and let us be the judge. It's fun!